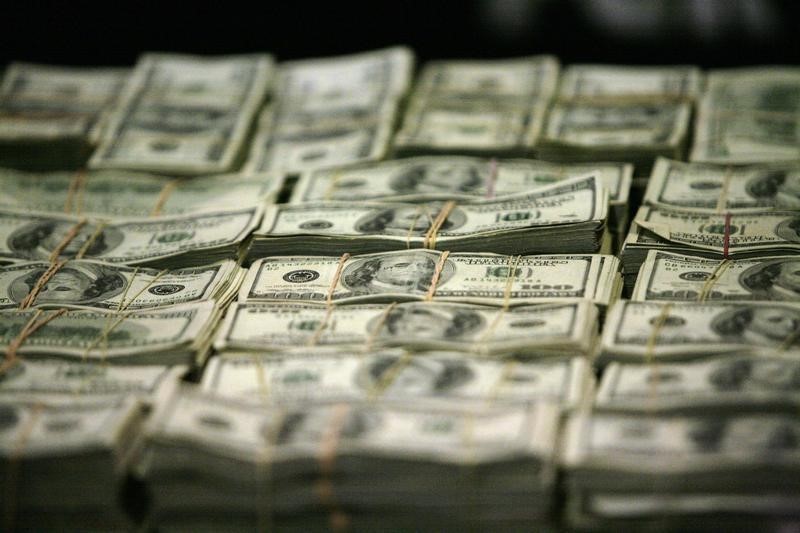 Investing The dollar remained broadly lower against the other major currencies on Tuesday, after the release of downbeat U.S. economic reports dampened demand for the greenback.
Trading volumes were expected to remain limited ahead of the Christmas Holiday.
USD/JPY slid 0.33% to 120.79.
The dollar weakened after the U.S. National Association of Realtors said that existing home sales tumbled 10.5% to a 19-month low of 4.76 million units last month from 5.32 million in October. Analysts had expected existing home sales to rise to 5.35 million units in November.
The data came shortly after the U.S. Commerce Department reported that gross domestic product grew at an annual rate of 2.0% in the three months ending September 30, better than expectations for 1.9%.
Preliminary data initially pegged U.S. growth at 2.1% in the third quarter. The U.S. economy grew 3.9% in the second quarter.
EUR/USD gained 0.55% to 1.0976.
The euro's gains were expected to remain limited however, as inconclusive elections in Spain over the weekend sparked political concerns.
Spanish Prime Minister Mariano Rajoy said on Monday that his centre-right People's Party (PP) would talk to rivals in a bid to form a government, but the left-wing parties reportedly said they would not want Rajoy to remain in power.
Elsewhere, the dollar was lower against the pound and the Swiss franc, with GBP/USDdown 0.30% at 1.4841 and with USD/CHF declining 0.51% at 0.9871.
Earlier Tuesday, the U.K. Office for National Statistics reported that public sector net borrowing rose to £13.56 billion in November from £6.75 billion in October, whose figure was revised from a previously estimated £7.47 billion.
Analysts had expected public sector net borrowing to rise to £11.00 billion last month.
The Australian and New Zealand dollars were stronger, with AUD/USD up 0.79% at 0.7248 and with NZD/USD advancing 0.85% to 0.6819.
Meanwhile, USD/CAD slipped 0.23% to trade at 1.3925, still close to Friday's more than 11-year high of 1.4000.
The U.S. dollar index, which measures the greenback's strength against a trade-weighted basket of six major currencies, was down 0.40% at 98.04.