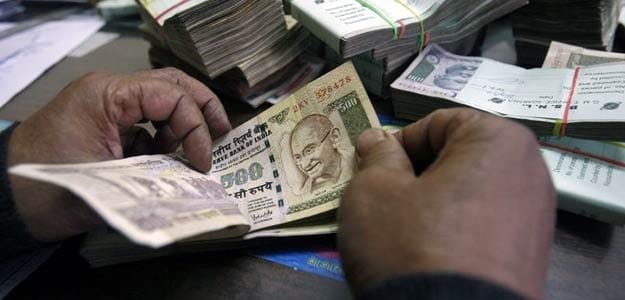 Set for the fifth straight year of fall in 2015, the rupee remained highly volatile this year and experts see the range of 65-70/dollar as the new normal.
While the government announced a slew of steps and the Reserve Bank also intervened on a few occasions to support the forex market, a highly volatile trend continued to rule the exchange rates due to global headwinds through 2015, during which the Indian currency also hit a two-year low below Rs 67 mark against the US greenback.
It is expected to end the year at Rs 66-67 level, down more than 5 per cent from its 2014-closing level of Rs 63.03 to one US dollar.
The major factors triggering the downward move included a substantial fall in foreign portfolio investments as an uncertainty prevailed for almost entire year over the long-awaited rate high in the US and the slowdown in China, a major driver of global economic growth for last few years.
Rupee's performance will largely depend on global risk sentiments and the domestic reform push, said Abhishek Goenka, CEO of IFA Global, which deals in forex and risk management. The global risk sentiment would continue to be shaped by the Fed Policy, recovery in Chinese and Eurozone economy, he added.
The forex markets were largely dominated by the actions of central banks, including the US Federal Reserve, this year. While Fed has finally decided to end its protracted period of near zero interest rate policy, the rate hike of 25 basis points came at the fag end of the year and speculation is already abound about its next move.
The Indian rupee, which was being seen as stabilising in the range of 63-65 in the early part of the year, soon hit on a downward path after a devaluation of the Chinese Yuan by around 4 per cent sent the Asian currencies into a tailspin.
On the domestic front, the Reserve Bank initiated several steps to support the Indian currency. The RBI increased FPI investment limit in fixed income markets, allowed importers to raise trade credit in Indian rupee from overseas, allowed companies to raise rupee denominated debt overseas and also showed its intent to intervene in Exchange Traded Currency Derivatives (ETCD) segment.
The government too played its part by relaxing FDI caps in certain sectors.
FPI inflows tapered in 2015 as compared to the previous years, which became one of the biggest factors for the rupee depreciation.
Though India's trade deficit shrank as compared to the previous year, exports have contracted for 13 straight months. However, FDI flows have been relatively better.