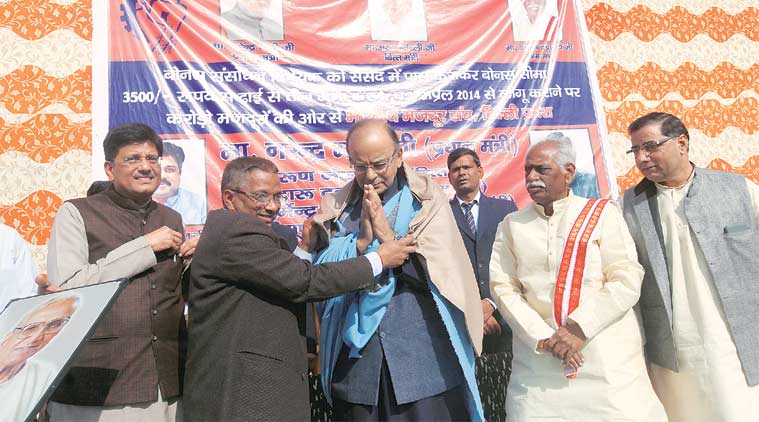 Indian economy needs to grow by extra 1-1.5 percentage points to sustain wage hike and other benefits given to workers and the poor, finance minister Arun Jaitley said on Wednesday.
"Our GDP growth of 7.5 per cent is at a time when the world is experiencing global slowdown. We need to increase our growth rate. We have to at least increase it by 1-1.5 per cent," he said at the felicitation function organised by Bharatiya Mazdoor Sangh (BMS).
India's Gross Domestic Product grew at 7.2 per cent in first half of 2015-16. Finance ministry's Mid Year Economic Analysis estimates GDP growth between 7 per cent and 7.5 per cent in the current financial year.
"In the coming year, there would be burden of Rs 1.02 lakh crore of Seventh Pay Commission, OROP (One Rank One Pension) burden is also there. That burden can be sustained only when there is increase in economic activity. Because of increased economic activity, government revenue and resources will go up," he said.
The Seventh Pay Commission, headed by Justice AK Mathur, submitted its report to the government last month, recommending 23.55 per cent overall hike in pay, allowances and pensions of Central government employees with effect from January 1, 2016. This will lead to the Centre's salary bill increasing by Rs 1,02,100 crore in 2016-17.
The government is ready to have dialogue with the trade unions with regard to wage increase, he said.
He said the government's view is that the benefits of economic development should first accrue to labourers and the poor. He said minimum wages of labour should be at least respectable and take care of inflation.
Meanwhile, speaking to reporters later in the day, Jaitley said the government has to rely mainly on public investment and foreign direct investment at a time when private sector investment was growing slowly and agriculture growth was not encouraging.
"Any economy requires multiple engines to pull it. Global tailwinds can be the engines of growth, which unfortunately they have not. Private investment can be an engine of growth, which it has not. Bumper agriculture can be an engine of growth, which it has not," he said.
"Therefore, we have to rely on other engines of growth, which are predominantly public investment, foreign direct investment, private investment in some areas like start-ups, telecom and then some increase in consumption," he added.
Jaitley said that good monsoon can add cutting edge to growth numbers. He said low global crude oil prices have been a blessing in disguise for the government, helping to bolster resources for higher investment. "The silver lining in this has been oil prices and this is enabling us to fund public investment, the principal engine of growth," he said.
'Shrinking Cong strength will make GST happen'
New Delhi: Hitting back at Congress' comment that even the trinity of Gods will not facilitate rollout of Goods and Services Tax (GST) from April 1, finance minister Arun Jaitley on Wednesday said shrinking strength of Congress in Rajya Sabha will make GST a reality, as MPs vote in Parliament, not Gods.
"Congress has said, trinity of Gods cannot make GST happen soon. Gods don't vote, MPs do and shrinking strength of Congress in Rajya Sabha can make it (GST) happen," Jaitley said.
Jaitley said most states are on board on GST and it was probable to implement GST in middle of the year. "A part of obstructionism (by Congress) was to stop growth. Otherwise, there cannot be volte face of this kind and secondly you cannot concoct those three reasons, which never existed," FM said. The Winter Session of Parliament was a washout, with the government unable to resolve the impasse over GST. Lok Sabha and Rajya Sabha passed 13 and 9 bills, respectively during the Winter Session of Parliament.